Villas DeRosa Resort
VillasDeRosa is a small family owned resort.  In 1983 Tony and Nancy DeRosa, along with their 9 month old son Tony Jr, travelled to the undiscovered Caribbean paradise of Akumal. Here Nancy and Tony learned to scuba dive and fell in love with both the sport and the amazing tropical area of Akumal. It was just a year later that they purchased a beach lot where the jungle met the ocean. Today this is the site of VillasDeRosa on the beautiful beach of Aventuras Akumal. The VillasDeRosa Location is 65 miles from the Cancun airport. Private Airport Transfers are available for you convenience.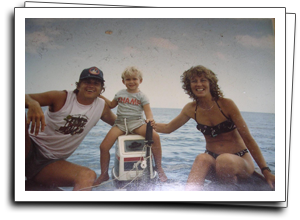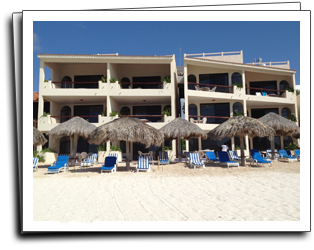 VillasDeRosa has two condo building with six Beach Front Condos in each building and three Hotel Rooms with garden/pool views. VillasDeRosa has wonderful in house dining Menu with meal and snack delivery to your own private dining room. This service is also available in the hotel room that have a small balcony overlooking the Swimming Pool…
On the beach in front of the condos are several palapa shade areas with reclining lounge chairs. This private area is for the enjoyment of our guests. Beach towels are provided upon request.
Just next door, Nancy DeRosa operates the Beach Bar and Grill serving refreshing tropical cocktails, wonderful local beers, soft drinks and juices. The swing style seats offer a friendly and warm Caribbean atmosphere.
Aquatech Dive Center is our in house scuba diving center available for our guests. Captain Wayne, Nancy's brother, operates our award winning Deep Sea Fishing charter located on site at VillasDeRosa.
Also available at VillasDeRosa is Alaina DeRosa's Mystical Cave Adventure. This tour will allow you to see and experience the incredible beauty of the crystal clear cenotes as they travel through the highly decorated underground caverns… An adventure for the entire family.
Young son Tony Jr, now 30 years old and a very personable young man, manages the Front Office. It is here that one can seek assistance with any concerns that might arise. Tony Jr. will be more than happy to share his wealth of local knowledge gained from a lifetime of beach living in the Akumal area. Additional Tours and Activities can be arranged with Tony Jr. in our front office…
Please join our family at VillasDeRosa and have a wonderful vacation.