Family Fun
At VillasDeRosa there is fun for the entire family… Your living accommodations sit right on top of the beautiful sandy beach of Aventuras Akumal, just 60 feet for the beautiful Caribbean sea….Just steps from your condo are Shade Palapas designed for you comfort while relaxing on our beach lounge chairs watching the boats sail by and the birds fly over head.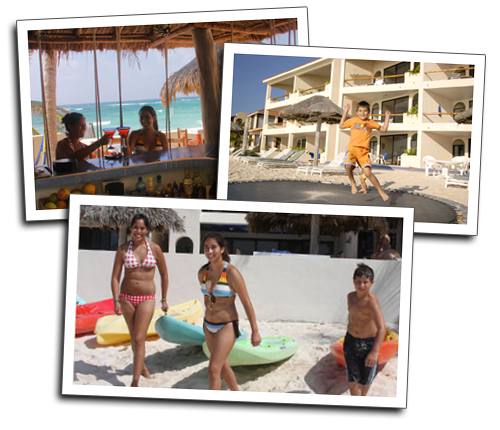 Throw in a Cocktail and a good book and it just doesn't get any better…..Unless of course you are hungry! If so, just order from our Menu and our staff will be happy to deliver your meals or snacks to a lounge chair on the beach or your private dining room in your condo.
Ok, so you're a little younger and cocktails are out of the question. VillasDeRosa has Sea Kayaks and at no additional charge. Just grab a life vest and paddle and go for a ride on the ocean. Want to see what's in the ocean? The snorkeling is wonderful right in front of Villas DeRosa. Just a little younger and want to stay dry? We have a Trampoline on the beach for the enjoyment of the younger kids. And of course for guests of all ages we have our Swimming Pool and more lounge chairs for relaxing. After relaxing, or maybe before, there are adventures to experience at Villas DeRosa.
If you are a scuba diver, we have Open Water Reef Diving, Cenote Diving and Cave Diving available at Villas DeRosa. If you have a scuba diving interest, but no certification, we offer a great Intro To Scuba experience. Sign up at our front office and enjoy a quick pool session and a short boat ride later, you will be diving on the beautiful Caribbean reefs of Aventuras Akumal.
More excitement and adventure can be experienced on our 2.5 hour Fishing Trip. Yes, that is deep sea fishing for Sail Fish, Marlin, Wahoo, Dorado, King Fish, Barracuda and more… Captian Wayne, my brother in law and one of the owner at VillasDeRosa, is our award winning fisherman. Wayne, on his boat, took 1st place in the 2009 Fishing Tournament and in the 2013 Fishing Tournament, it was a clean sweep, they took 1st, 2nd, and 3rd place. At Villas DeRosa, you live and play on the beautiful Caribbean beach of Aventuras Akumal. Come join the adventure!