Youngest Diver Ever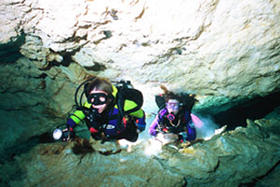 I started my cave diving course a week after I turned 14 and I've been open water diving since I was 8. My first cave dive was on August 3, 1997. Steve Gerrard, a world famous cave diver, was my instructor.

Mexico has been my home since I was 1 years old. I was born in Salt Lake City, Utah, but I'm not a Mormon. My Mom and Dad have a dive shop right next to my house, Aquatech Dive Center, so I've been around diving my whole life. I even lead snorkel groups through the Matancero wreck near my house.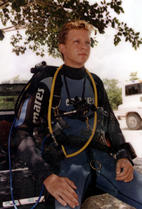 The instructor Steve Gerrard had us read, study, listen to lectures, and look at the gear for two days before we even got in the water. My classmate was John Tye from Ohio - he was about 15 at the time. The first day he stung line between trees and we had to follow the line with our hands, with eyes closed. Steve would pull the string occasionally to make it harder to follow. We did partner drills where one person held on to the other person, to simulate what to do if all the lights went out or silt in the water made it impossible to see. Some lectures were held at Villas DeRosa's La Terraza rooftop bar during the day. Lectures covered safety, how to use the equipment, navigation, and everything you need to know about cave diving.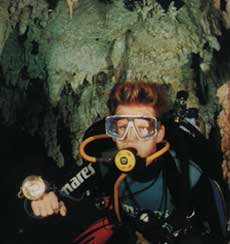 The first dive was at Carwash Cenote in Mexico near Akumal. We dove the Chamber of the Ancients, which is a part of the cave Carwash that goes down to about 90 feet. I saw my first rumipellia - a white wormlike creature who lives in caves. One spot in the middle of the chamber looks like a wood-burning oven because there are fossilized trees at the bottom.

If you know anyone younger than 14 who became a cave diver, let me know and I'll change the page.

Email Tony Derosa Jr.