Cave and Cavern Training Program
An Overview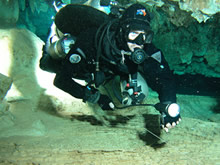 Cave diving has evolved over the past thirty years from being an unknown and mysterious rogue of scuba diving to a highly recognized and respected sport. The interest and participation has increased dramatically though it remains a very tiny percent of the entire realm of diving.

The new industry of technical diving has allowed cave diving to come forth and offer an entirely new and unique environment for divers to learn and explore.

As more and more divers grow with experience, they seek more knowledge and new challenges to broaden their skills and development as competent and safe divers.

Training and Education are required before venturing into underwater caves. Cave diving is highly specialized. It demands that particular equipment and techniques be used. When not trained, it is extremely dangerous. With training, the diver is taught the correct procedures and proper equipment necessary to participate safely. It creates the solid foundation for the diver to build and grow as more experience is acquired.

Cave diving is based on judgment. Human error is the main cause of accidents. With proper training, the diver can learn to be at ease in a very beautiful and interesting underwater environment. The high stress and tension that results from not being prepared in an organized and disciplined manner can be potentially hazardous.

Cave and Cavern Diving in Yucatan's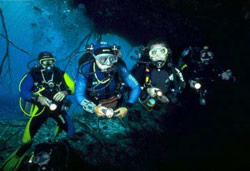 The Caribbean Coast of Mexico's Yucatan Peninsula, the Riviera Maya, offers the perfect characteristics for underwater caves and caverns. It has a soft, sedimentary limestone bedrock giving water the capability to carve out the a network of caves. The peninsula is a giant bowl collecting the tropical rains and the caves meander slowly underground towards the sea carrying the water. This horizontal drainage collects more volume as it nears the coast. Finally emerging out among the many huge springs or outlets with such names as X'el-Ha, Yal Kul, X'pu-Ha, Tan-Ka, Chacalal and many more. This incredible geological combination of filtered, crystal clear water and shallow depths creates the world's BEST area for safe cave and cavern diving.

And, as a bonus, all these caves that were once dry during our last Ice Age 20,000 years ago, allowed the opportunity for nature to produce an artistic array of speleothems and decorations. This gallery allows the cave diver to witness an awesome display of nature's beauty and power.

Cave diving emerged in the Akumal - Tulum area during the mid 1980's. Cave divers discovered that the cenotes (natural wells) were windows to these underground streams and this began an entire NEW FRONTIER! As more cave divers explored, more cave systems were discovered. Today, there are over 40 different cave systems to visit and more than 200 miles of passageways to explore. You will not find a more concentrated area of underwater caves within such easy and convenient distance of each other. The water clarity is unlimited and never affected by weather conditions. The caves are consistently clear all round. The size of many of the cave systems reach mammoth proportions - a cave diver's delight!

In fact, four of the five largest cave systems in the world are located here. Sistema Dos Ojos and Sistema Nahoch Nah Chich have both been explored past 200,000 feet of surveyed passages. The world's two longest underwater stalactites exist here. Sistema Chac Mol (the Jaguar Cave) has a 40 foot flowstone called Xix-Ha-Tunich (Mayan for Drip Water Stone) in a room called Cauac-Nah meaning Monster's House in Mayan. There is 22 foot stalactite called "The Fang" in the Sistema Temple of Doom. The caves contain both fresh water draining from the jungle and the salt water soaking inland from the Caribbean sea. When these two waters meet, they produce a "halocline" which is a stunning and unusual experience to enjoy.

Most of the dive sites allow easy accessibility. The land owner's have constructed walkways, platforms, steps or ladders to provide easy and safe entries into the water. Only a few caves can be difficult. None of the cave systems go over 90 feet in depth with most averaging 40 feet or less. This allows long bottom times with very little decompression required. Safe and comfortable. It simply does not get any better!

Cave and Cavern Diving - The Challenge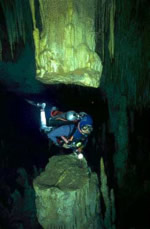 Why you will enjoy learning safe cavern and cave diving? Simple. It's challenging and rewarding. It's also fun. For us, it is not a job but a passion to see divers learn and understand more about a unique and beautiful underwater environment. Cave diving has evolved over the past twenty-five years from being the rogue of scuba diving to a highly respected sport. The interest and participation has increased dramatically though it remains a very tiny percent of the entire realm of diving.

The new industry of technical diving has allowed cave diving to come forth and offer an entirely new and unique environment for divers to learn and explore. As more and more divers grow with experience, they seek more knowledge and new challenges to broaden their skills and development as competent and safe divers. Cave diving training has proven and established itself far ahead of all advanced levels of dive training.

  Because of the "overhead environment" and the complexity of the underwater cave, it forces the diver to higher level of discipline. The diver must be organized and psychologically comfortable to safely enjoy this pristine world.
* Minimum 15 cave dives or more and 700 minutes of underwater bottom time. No other type of training requires or provides this kind of diving experience and exposure.

* Cave diving is dictated by judgment. The competent diver must continually think and be aware of his location, equipment and technique to be successful.

* Skills and techniques measure the difference between those who do well and the frustration of doing poorly.

* Cave diving training builds confidence. With so many dives required, you can watch yourself improve and grow with competence each day.

* Cave diving shows awareness. Your ability to know where your equipment is located, your presence in the cave and about yourself.

* Cave diving is based on "attitude". Your mental outlook towards a goal. You are challenged to be self sufficient, self honest and self disciplined.

* Common sense. A learned trait that can be developed to a point of reflex behavior.
  Aquatech's 20 years experience teaching safe cave diving has provided us a vast knowledge of different levels of ability, personalities and a keen sense to adjust and be patient with a wide variety of people who desire to seek cave diving training. Though most have succeeded, cave diving is NOT for everyone ...
You have to prove you can do it!
Train With the Professionals at the AQUATECH Dive Center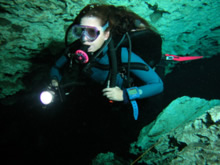 Aquatech has training programs for Cavern, Introduction To Cave Diving and Full Cave Diving, along with a variety of specialty cave diving courses including side mount, Diver Propulsion Vehicle (DPV), Survey, Stage Diving and Cartography.
We consider Aquatech training program and facilities the BEST in Mexico for a wide variety of reasons:
* Aquatech is located directly in the central point of the Riviera Maya coast that contains all the cave systems and popular cenote dives between Tulum and Puerto Aventuras.
* We have dedicated our facility to cater to the needs of all divers from around the world who have the interest and desire to visit our area and learn and safely cavern or cave dive: * One of the largest inventory of double tanks with DIN dual outlet manifold in the diving industry with over 80 sets in stock.
* Over 100 single 80 cu. ft. tanks to cater to all our divers including open water, cenote diving and for special needs.
* Inventory of 10 sets of doubles and over a dozen single tanks dedicated for EANx diving.
* Oxygen supply of over 1500 cu. feet to mix our Nitrox fills and provide oxygen for decompression procedures for our customers.
* 10 sets of stainless steel back plates, back mount "wings" BCDs, seven foot long hoses, safety, jump/gap and primary reels - everything cave divers need.
* Our philosophy with equipment and configurations is current with the mainstream cave diving community. We strongly believe in "Doing It Right"!
* More than a dozen rental Primary Lights (12 volt, 50 watt) available for cave diving.
* A fleet of vans to insure transportation to dive sites.
* Ingersoll-Rand block custom compressor system designed and constructed by STARK Industries of Houston, Texas. Rated for 5000 psi at 23
cubic feet per minute capacity. The air filter system is the ultimate state-of-art configuration which maintains the highest level of quality, filtered air for your safety and health.
*
Aquatech Dive Center
and
Villas DeRosa Beach Resort
is a self contained facility where we provide all the services necessary to make your visit and training comfortable, convenient, and professional. That means we offer accommodations, food services, airport transfers,transportation to all diving sites, along with the most experienced and professional cavern and cave diving instructors - all within the same facility. Minimize the hassles dealing with restaurants, renting a vehicle, and chasing down tanks and air. Our services provide the extra time to relax, study and learn the information you will be provided to dive this beautiful environment.
We have carefully thought out the Aquatech/Villas DeRosa operation to provide the facilities and services for your visit and training to be the most enjoyable and best experience. Please compare what we offer and provide with anyone in the Riviera Maya. You will easily see and realize the difference. Your choice for quality training and education should be with - Aquatech Dive Center.